17 August 2013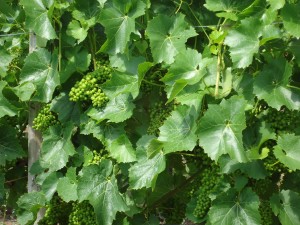 The recent good weather has been a tonic for the vines and Seyval Blanc have excelled themselves, so much so, that we are removing some grapes so that ripening of those left takes place.
The second release of our Sparkling Rosé 2010 has been awarded a Silver Medal in the English & Welsh Wine Of The Year Competition 2013, the judges tasting notes read "Pale peach, persistent bubbles and cordon; fresh bread notes, cranberry and strawberry fruit; mouth-filling mousse, lively and well defined, fruity but delicate, spicy finish and good length.  Delightful."  For sale at the vineyard priced at £23.50 a bottle.  We are also lucky to have a 2012 Rosé our only wine following the poor harvest of last year and this is priced at £9.95 a bottle.
As usual, we have a lot of birds in the vineyard and I could swear that they are looking with excitement and expectation at the developing feast of grapes before them, so the next job is to protect the forthcoming harvest with nets before they dive in.