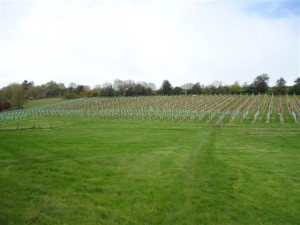 19 May 2013
600 new vines have been planted and the vineyard has increased in size by 40%, just short of 2000 vines,  an area of half a hectare.
New wines for this year will be our 2012 vintage, a Rosé and the second release of our 2010 Sparkling Rosé which has spent 22 months on its lees.  As soon as the labels are printed they will appear on our shop shelves.
25 May–2 June 2013 is English Wine Week and Gala Week for The Lions Club of Budleigh Salterton.  The vineyard will be open every day 10.30 am – 4.00 pm and a Guided Tour followed by a free tasting of our Fine English Wines, price £6 per adult, will take place every day at 2.30 pm.  Please book by contacting 07977 057864.  Light refreshments will also be available.  This year our chosen charity for a donation will be the Budleigh Salterton Health Centre Charity.
Budburst is late this year so the vines have some catching up to do.  Fingers crossed for a good growing season and a bumper harvest.