27 March 2013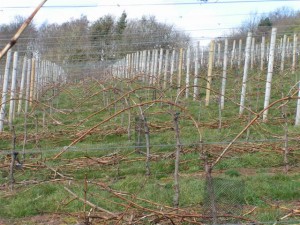 Last Monday we participated in the local producers event 'Secrets of Devon' held at The Britannia Inn and Restaurant in Knowle Village.   The afternoon turned into quite a busy affair with local businesses and Councillors dropping in.
Meanwhile, at Lily Farm, we have finished pruning 3 weeks later in the year than normal and it was hard work in the cold weather.  Not surprisingly we do not expect to see budburst for a while yet.
Looking on the bright side we are preparing to plant another 600 vines which will include a new variety for our vineyard, namely Reichensteiner, a white grape to compliment our current white wines which is good for blending and  sparkling wines.
We open for the new season from Thursday 28 March 2013 and our Shop opening hours will be every Thursday, Friday and Saturday 10.30 am to 4.00 pm.  Guided Tours will take place at 2.30 pm but as we are a working vineyard booking is required by contacting 07977 057864.
Alan and I look forward to welcoming you to Lily Farm Vineyard.