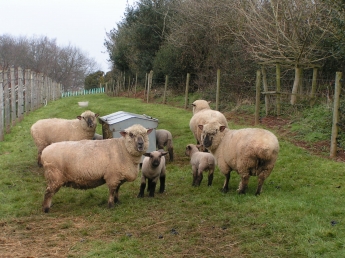 4th March 2012:
There are so many jobs around the vineyard at this time of the year and it is true to say that there is never a dull moment at Lily Farm!
Our four Dorset Down ewes lambed in January and the lambs are growing so fast that they will soon be as big as their mothers.
Pruning of the vines and bowing over the new canes is now finished. Whilst a somewhat arduous task the weather has been fantastic. With daily temperatures reaching as high as 16 degrees it certainly feels like the beginning of a new growing season!
We visited Steve at the winery last week to get the first taste of the 2011 vintage. The new red is a particularly exciting prospect, with a natural fermentation at 13.5% volume. This is exceptional for an English red wine and we eagerly await its arrival in time for English Wine Week at the beginning of June.