8 October 2012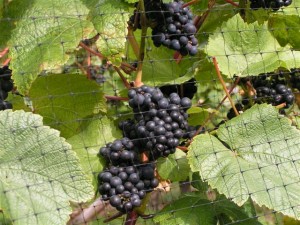 It seems that we only put the nets around the fruiting wires yesterday and already they  are down again as on Wednesday 4 October we welcomed our regular pickers, with one or two new faces, who had come to help us pick our grapes.   What  GREAT FRIENDS you are and once again, THANK YOU, we could not manage this so well without your help.
We met at 9.00 am for tea, coffee, brioche, muffins and a chat followed by instruction and safety talk from Alan with a 9.30 am start in the vineyard.
The morning went well with the only shower of rain materializing just as the pickers finished and came in for lunch.  There was a lot of ground to cover as due to the weather this year we had fewer grapes to pick and we decided to pick Rondo following on with Pinot Noir Precoce as they will be blended by Steve at Bagborough Winery to make a rose' wine this year.
We picked half a tonne of grapes, not a lot for all the work, but we did have a harvest and we still have the Seyval Blanc left to pick which should be ready in early November.