10 June 2012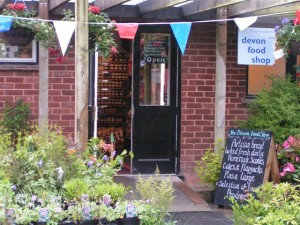 Definitely not flaming June and there were not many guided tours this English Wine/Gala/Jubilee Week in between the rain showers, however, we were pleased to greet new and regular customers who called in to taste and buy our wines.
We will be making a donation of £100 towards the Budleigh Salterton Christmas Lights.  Thank you for your support in helping us to raise this amount.
On Saturday 9 June, Faye was made welcome in the Devon Food Shop at Otterton Mill where she offered tastings of Lily Farm Wines to customers.  Feedback was positive and recent media publicity is working well to help raise awareness that we have a first class English Wine Industry.
There have been many changes at Otterton Mill and it is well worth a visit to see the ancient working watermill, shop for local food and wine, arts and crafts, participate in one of their workshops, or just eat in their award winning restaurant.