30 March 2014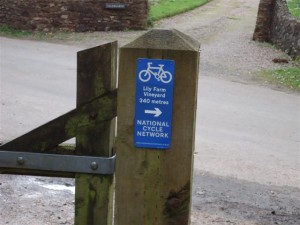 After two wet winter months of pruning it was with some excitement that we went to Bagborough Winery to taste our new wines.  Steve, our winemaker, has worked his magic yet again and we are really pleased with our new wines to be released for sale when we open on Thursday 17 April 2014 at 10.30 am.
Waitrose branches in Sidmouth, Torquay, Teignmouth, and Exeter, now stock our Sparkling Rosé.  You will also be able to purchase our wines at Budleigh Wines in the High Street, Pynes Farm Shop at South Farm and at Otterton Mill as well as the Vineyard.  If you want a glass of our wine with your meal you will find Lily Farm Vineyard on the menu at A La Ronde, Exmouth and The Salty Monk in Sidbury.
A visit from Sustrans Rangers this week and the Vineyard has new signage from the National Cycle Network, Route 2.  Alan and I are both keen cyclists and we are delighted to be able to offer Lily Farm as a destination point to fellow cyclists and walkers.
Before we open there are still plenty of jobs in the buildings and the vineyard to complete as they have been delayed due to the recent very wet conditions, however, we have noticed that some of the vines do look as if they may be waking up and getting ready for go.
We wish you well and look forward to 'A Good Year'.