18 April 2014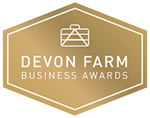 Lily Farm Vineyard has been nominated for the 'Best Diversification Award' as
part of the 2014 Devon Farm Business Awards.  Organised by the farming charity
Addington Fund in association with Stephens Scown Solicitors and Devon County Agricultural Association, the Awards celebrate the important role of farmers and food suppliers and their contribution to the economy of Devon.  We will bring you further news at the end of May.