31 December 2014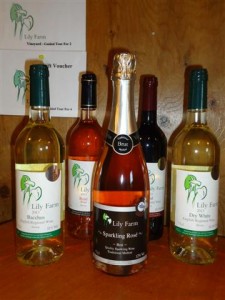 2014, proved to be an exceptional year for the English Wine Industry with perfect growing conditions and record yields of top quality grapes at harvest time.  For Alan and I, it was a year that exceeded all our expectations at Lily Farm with our first entry in the International Wine Challenge achieving a Silver Award and a first Gold Award, in the South West Vineyards Association Competition.
We do have some sad news to convey to our many helpers who know us well and we are sorry to inform you that Uncle Fred unexpectedly passed away on Boxing Day.  He was a fountain of knowledge and always a pleasure to see, we enjoyed his visits and valued his advice and help, particularly at harvest time, when weighing in the crates.  Fred Tregay RIP,  he was one of the old school and our condolences go to Ann, Peter and all their family, we will miss him.
As we move into 2015 the vineyard shop will continue to open on Friday and Saturday 10.30am – 3.30pm but if you are passing by you may well find us working in the vineyard most days as we start the important job of pruning, do pop in.  It all seems to come around so quickly but, it is true to say that each year is quite different keeping everyone in the industry on their toes!
Finally, I would like to thank you for all your wonderful support and help this year and to wish you all a Happy And Prosperous New Year!